Computer Center
Head:
Stavroglou P. Konstantinos
Staff:
Postgraduate researchers:
Research assistants:
The Computer Center has a modem pool that can be used by external users/ researchers to access computers in the C.E.T.I.'s domain. The computing infrastractute of C.E.T.I. includes thirty-six Windows-based and four Linux-based desktop computers, (all of them have Intel Pentium III and Pentium 4 CPU and up to 256 Ram, many of which are equipped with CD/DVD Roms, Sound Cards, Zip, CD-RW drives, Cams), six notebooks, Laser printer (HP 8150DN), Color Laser printer (Tektronix Phaser 8200), InkJet printers.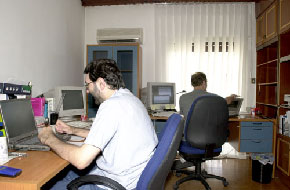 The Computer Center also supports the wi-fi technology. Some users (researchers with laptops) use CETI's wireless access point to access computers in the C.E.T.I.'s domain. All software used at the Computer Center or at C.E.T.I.'s Labs have been properly licensed and utilized in strict accordance with the license agreement. Also, users / researchers are using Secure ID cards for the entrance to the CETI's area.
Services of CETI/IRIS NOC

User Services
o Users Accounts
o Safe Use of Services
o Electronic Mail (e-mail)
o Segregation service of undesirable emails (anti-spam)
o Dial-Up Connection and Secure Channel Connection via VPN
o Personal storing space and Hosting of personal web pages
o Network Address Registration
o Search of user ID and PC IP' S
o User Digital Certificates
General Services
o Electronic Mail Lists (mailing lists)
o Services of World Web (www) o FTP Services
o Proxy Services
o Distributed Support of Services
o Web Search engines (search engines)
o Seminars for the use of Services
o Available Software
Pilot Services
o Videoconference Services
o Picture-sound Transmission Services
o Telephony Services above IP (VoIP)
Services of Network Infrastructure
o Technical Bulletins: Briefing on damage and programmed work
o Network Socket Placement o Connection Damage Diagnosis
o Follow-up of Available Network Resources
o Cable System Management
o Active Elements Management
o Internet Connection
o Telephone Centre Management
o Access Personnel System Management